Product Information:
Make sure this fits by entering your model number.
Max-Contact Technology and 2.7-slot width provides 2x the surface area than the previous generation heatsink, allowing for more efficient thermal transfer.
Wing-Blade Fans boasts IP5X dust-resistance and operates at 0 dB levels when temperatures hit below 55C.
Protective Backplate features a durable aluminum construction to prevent PCB flex and trace damage.
GPU Tweak II makes monitoring performance and streaming easier than ever, featuring Game Booster and XSplit Gamecaster, all via an intuitive interface.
Product Specifications:
Memory Speed: 1800 MHz
Graphics Coprocessor: NVIDIA GeForce RTX 2080
Chipset Brand: NVIDIA
Card Description: Geforce RTX 2080
Graphics Card Ram Size: 8 GB
Brand: ASUS
Item model number: DUAL-RTX2080-O8G
Item Weight: 1.44 pounds
Product Dimensions: 10.53 x 4.47 x 2.28 inches
Item Dimensions LxWxH: 10.53 x 4.47 x 2.28 inches
Manufacturer: ASUS Computer International Direct
ASIN: B07GK4X6C2
Is Discontinued By Manufacturer: No
Date First Available: August 19, 2018
Style:DUAL OC
Experience silent and powerful gaming with the next-gen ASUS DUAL RTX2080 O8G. Featuring NVIDIA's new Turing GPU architecture, the card's cutting edge graphics stay frosty with 0dB dust resistant fans for a 50% cooling increase, while overclocking and monitoring is made easy with ASUS' GPU Tweak II software.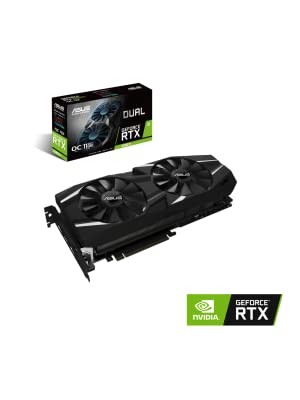 ASUS aspires to deliver the incredible in everything it does. With more than 16,000 employees around the globe with a world-class R&D team of 5,500 engineers, and 13 billion in revenue, ASUS is dedicated to the design and manufacture of products that perfectly meet the needs of today's (and tomorrow's) digital home and office.
Overview
Delivering the latest NVIDIA Turing gaming experience in its purest form, the ASUS Dual GeForce RTX 2080 melds performance and simplicity like no other. Leveraging advanced cooling technologies derived from flagship STRIX graphics cards, the Dual GeForce RTX 2080 opts for substance over style, the perfect choice for a well-balanced build. Buckle up and engage cutting-edge gaming prowess.
ASUS GeForce RTX graphics cards are powered by the Turing GPU architecture and the all-new RTX platform.
DirectX 12: Power new visual effects and rendering techniques for more lifelike gaming.
4K: Step up to the ultimate 4K gaming experience with GeForce RTX.
Patented Wing-blade Fans deliver high air pressure, reduced noise levels, IP5X certified dust resistance, and 0dB mode for silent gaming.
2.7-Slot Design to expand cooling surface area by more than 50% compared to last gen.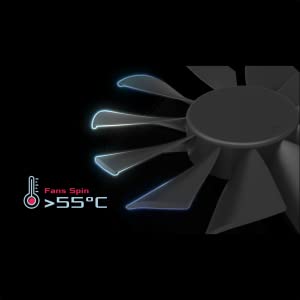 Features
Patented Wing-blade Fans
Our patented Wing-blade fan design is cool and quiet with 105% greater static pressure over the heatsink compared to traditional axial fans. IP5X dust resistance seals the fan's internals from particle ingress to keeps things running smoothly.
0dB Technology
0dB technology allows fans to stop spinning when the GPU core temperature remains below 55 Celsius, letting you enjoy light gaming in complete silence. If temps rise, the fans automatically start up again.
2.7-Slot Design
We've increased the overall surface area of our cooling array by over 50% compared to last gen. Our latest design gives you a lot more thermal headroom for overclocking. Also, the extra heat dissipation keeps your fans running at lower speeds while you game.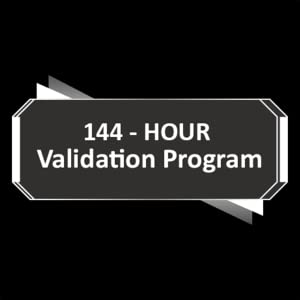 Features
144-Hour Validation Program
Our extensive performance and stress tests begin with the very latest chart-topping titles — like Fortnite, League of Legends, Overwatch and PlayerUnknown's Battlegrounds. We also carry out reliability trials that include a 144-hour stability test and a series of 3DMark benchmarking runs to ensure the card performs well when pushed to the limits.
Protective Backplate
The Dual GeForce RTX 2080's densely packed PCB is reinforced by an aluminum backplate that adds structural rigidity, helping to prevent PCB flex and protect components and trace pathways from damage.
GPU Tweak II
The ASUS GPU Tweak II utility allows you to tweak critical parameters including GPU core clocks, memory frequency, voltage settings, and more with the option to monitor everything in real-time through a customizable on-screen display. From fine-grain performance tuning to advanced fan control, GPU Tweak II has all the tools you need to get the most out of your graphics card.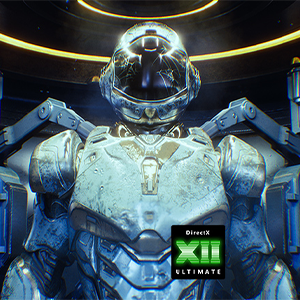 DirectX 12 Ultimate
DirectX 12 Ultimate is the version of the API for this generation of games. DirectX 12 Ultimate takes games to a level of realism with support for ray tracing, mesh shaders, variable rate shading, and sampler feedback. GeForce RTX is the PC platform with support for these game-changing features.